The Blue Lantern Steak and Seafood Dining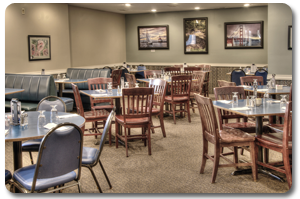 Your favorite drinks and these incredible appetizers will put you in that special place called The Blue Lantern.

Our signature sandwiches, topped by the Lantern Burger and Larry's Ham Sandwich will make any meal a memorable occasion and a wonderful getaway from your tough day...

Let us help you chart a new course for your evening, stop by for dinner and recreation at The Blue Lantern.



Serving Dinner

Monday & Tuesday 3:30 - 9:00
Wednesday & Thursday & Friday 3:30 - 10:00
Saturday 2:30 - 10:00
Sunday 2:30 - 9:00
Sharable

Crab Cakes 10
Two homemade crab cakes served with served with rice and dill sauce

Shrimp Cocktail 6
Five jumbo shrimp with lettuce and cocktail sauce

Breaded Mushrooms 7
Fresh battered and fried mushrooms

Add melted cheese for a dollar

Onion Rings 7
Hand cut and battered onion rings

Italian Stuffed Pepper 9
Hungarian peppers stuffed with Italian Sausage and topped with marinara sauce

Chicken Tenders 8
Hand battered crispy golden brown chicken tender served with BBQ or ranch

Potato Pancakes 7
Classic potato cakes topped with cheddar and bacon

Boom Boom Shrimp 9
Five hand battered shrimp tossed in our
spicy "Boom Boom sauce"
Greens and Soups

Lantern Salad 7
Huge bed of fresh lettuce topped with cheese,
tomato, onions, and croutons

Chef Salad 9
Hickory smoked ham with lettuce, tomato,
onions and croutons

Smoked Chicken 10
Smoked chicken with maple seasoning tops
lettuce, bacon, cheese and croutons

Fresh House Made Soup 8
Fresh ingredients made daily
Bowl 4 Cup 3
Earl of Sandwich

The French Dip 10
Slow roasted beef stuffed in a Dutch crunch roll
and served with Au Jus

Pork Tenderloin 9
Whole muscle pork tenderloin fried to
golden brown on a toasted bun

Philly Beef 10
Our delicious roast beef with sauteed peppers
and onions and smothered in Swiss cheese

Beef Italian 10
Our delicious roast beef with sauteed peppers and
onions with mozzarella and Marinara sauce

Grilled Chicken Breast 9
Juicy grilled chicken inside a warm bun with lettuce,
tomato, and garlic mayonnaise

White Fish 7
Hand battered and fried flaky white fish served
with a side of tartar

All sandwiches served with fries
Build A Burger 7
Start with a hand pattied burger served with lettuce, tomato, and fries
Add your favorite sauce Mayo ( Garlic or Chipotle), BBQ, or Marinara
Add bacon, Ham, or onion rings
for two dollars

Add American, Swiss, Blue Cheese,
Mozzarella, or Spicy Pepper Jack
for a dollar

Add jalapenos, green olives, or
sauteed mushrooms for a dollar.
Giant Spuds

Oink and Moo 9
Over-sized baked potato loaded with
crispy bacon and cheese

Cheesy Trees 9
Our Gargantuan baker stuffed with fresh broccoli
and cheese

The Beef Stew 10
Slow roasted beef and fresh stew veggies fill this monster potato and topped with rich beef gravy

Spuds served with salad
Little Bit of Mexico

Smoked BBQ Chicken Burrito
Small 7 Large 9
Hickory smoked BBQ chicken with lettuce and
tomato Cheese covered

Wet Burrito
Small 7 large 9
Fresh seasoned ground beef, lettuce, tomato, and
refried beans topped with melted cheese
White Fish Tacos 9
Crispy and flaky white fish in a tortilla with cheese, lettuce and tomato.
"BOOM BOOM SAUCE" on the side
Chicken Dishes

Charbroiled Chicken 12
Large chicken breast seasoned and
grilled to perfection

Cajun Chicken 15
Four pieces of baked chicken fused
with spicy Cajun spices

Fried Chicken 14
A four piece fried chicken dinner made
from homemade batter

Drunken Chicken 13
Marinated in Stella beer
and savory spices then grilled
From The Broiler

Classic Chopped Steak 16
Ground sirloin charbroiled and smothered
in sauteed mushrooms

Deadeye Ribeye
This wonderfully marbled choice rib cut
charbroiled to your liking
12oz 19 26oz 38

Beef Stroganoff 14
Roast beef served on top fresh egg noodles
and topped with gravy

Liver and Onions 13
Choice Beef liver topped with fresh grilled onions

Lamplighter 14
Hand cut aged choice flat iron steak
seasoned to perfection

Swiss Steak 13
Homemade Swiss steak served with creamy mashed
potatoes, fresh seasonal vegetables, and Beef gravy

Center Cut Pork Chops 18
2 large chops broiled or pan fried with
real butter and seasoning

Pork Medallions 14
Sliced pork tenderloin sauteed
in peppers and onions

King's Prime Rib
Generously seasoned and slow cooked choice prime rib
Queen Cut 19 King cut 28
From The Water

Frog Legs 17
Six saddles battered, fried, or sauteed with
butter and garlic.

Fried Shrimp 17
Eight hand battered shrimp served with a side of
cocktail or "Boom Boom Sauce".

Lake Perch 19
Five pieces of perch prepared as you like with
seasoning and butter.

White Fish 14
Flaky and fresh battered, fried, or baked
with butter and seasoning

Walleye 19
Delicious walleye fillet battered, fried, or baked with
butter and seasoning

North Atlantic Salmon 18
Large salmon fillet baked on a cedar plank
with seasoning
Pasta Primavera 13
A blend of vegetables tossed in pasta and Rose' Sauce. Served with soup and salad
All dinners served with choice of potato, soup, salad, and a cheese and cracker basket
*Notice: Consuming raw or undercooked meats, poultry, seafood, shellfish, or eggs may increase your risk of foodbome illness.